February 15th, 2017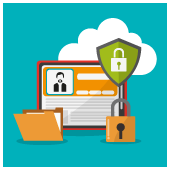 Shopping around for a managed IT services provider is tough. You're looking for a business to manage extremely complex and delicate technology, so they can't be expected to get into the nitty gritty details of DNS-layer security, intrusion prevention systems, and encryption in their marketing content. But one thing does need clarification: What exactly are "proactive cyber-security" measures?
Understand the threats you're facing
Before any small- or medium-sized business can work toward preventing cyber-attacks, everyone involved needs to know exactly what they're fighting against. Whether you're working with in-house IT staff or an outsourced provider, you should review what types of attack vectors are most common in your industry. Ideally, your team would do this a few times a year.
Reevaluate what it is you're protecting
Now that you have a list of the biggest threats to your organization, you need to take stock of how each one threatens the various cogs of your network. Map out every device that connects to the internet, what services are currently protecting those devices, and what type of data they have access to (regulated, mission-critical, low-importance, etc.).
Create a baseline of protection
By reviewing current trends in the cyber-security field, alongside an audit of your current technology framework, you can begin to get a clearer picture of how you want to prioritize your preventative measure versus your reactive measures.
Read more.