March 22nd, 2017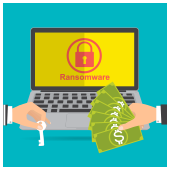 We've gotten so caught up discussing ransomware prevention with our clients that we've neglected to mention that several strains have already been defeated. In fact, there's a decent chance you can actually decrypt all your data for free. Always make sure to check these lists before responding to a cyber attacker's demands.
The state of ransomware in 2017
It's been almost 30 years since malware was first created that could encrypt locally-stored data and demand money in exchange for its safe return. Known as ransomware, this type of malware has gone through multiple periods of popularity. 2006 and 2013 saw brief spikes in infections, but they've never been as bad as they are now.
Read more.